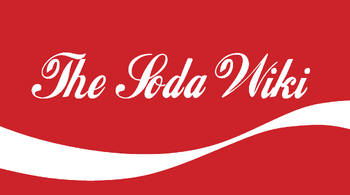 This wiki is under construction. If things aren't up to par with any other wiki you come across, we will eventually get it in the meantime. Thank you.

Soda truly one of the most loved luxuries of life. With lots of sugar and a unique bubbly taste in every bottle and can, there's no getting away with soda, even when you're on a diet. This popular drink was created in 1777 by a 34-year-old chemist Joesph Priestly. He was the one who found out that you can artificially put carbon dioxide in the water. Because of his discovery, soda is now a national icon for the happiness of all ages. It has sparked one of the biggest, if it's not, the biggest rivalries in the world. In every bottle of soda, there's a story and every story as compulsive as the next.

Welcome to The Soda Wiki, the unofficial collaborative soda encyclopedia that anyone can edit. Join us to help grow our community and we need your help! We have some information about the biggest known brands of soda that include Coca-Cola, Pepsi, Dr Pepper, Crush, and more that you may not hear about regularly.

If you don't know where to start:

First, you have to make an account (read more here).

When you have an account you can edit, write blogs, and do other stuff.

You can also upload a picture or video, but before you do that please check out the galleries and videos so there are no duplicates.

If you're not sure about some things, ask the admins of this wiki.

If you're new to Wikia, please use the links below to get started or ask the Admins of this wiki.
Getting Started • Video Tutorials • Fandom University • Help

July 14th, 2020

Since it has been so long since our last news update. I just want to say we apologize to our loyal fans that have been watching the news on our wiki. In a full year of not with an update for so long. Soda fans, we're just saying be safe and wash your hands often. We will still be active shortly. Take care.